http://www.theguardian.com/technology/2014/jun/16/greece-coding-schools-programming-children
Greece should be protecting coding lessons in schools, not cutting them
2013's Hour of Code showed Greek students' enthusiasm for programming, so why isn't the government supporting it?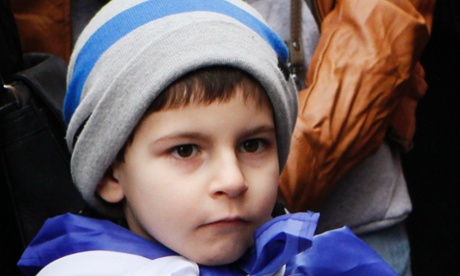 Coding is becoming acknowledged as a critical literacy for the 21st century. In Greece, despite a four-year long, devastating financial crisis and a much-criticised government,
Greece ranked sixth
worldwide in the number of students completing 2013's
Hour of Code
challenge.
Students in Greece have enjoyed the option of a coding class in their senior year of high school for the past 15 years, which is examined nationally in the technology orientation of the University Placement Exams.
Yet the Greek government, with its new school bill proposals in August 2013, astonished students and teachers by moving to eliminate technology completely from these exams.
In response, university professors and teachers' associations
objected in letters and petitions
, and hundreds commented on the government's consultation website. This, in the same year marking the launch of the Hour of Code, which engaged as many teachers as possible in introducing students to an hour-long programming activity in class.
Greece has always been a small country lacking technology infrastructure in schools, but teachers and students embraced the Hour of Code initiative with fervour, ranking only behind the US, UK, Canada, Turkey and India on the global leaderboard.
"The children of today are far from the rural or even typical industrial societies we knew," wrote Joseph Sifakis, laureate of the 2007 Turing award, in a
powerful newspaper opinion piece
arguing that the bill promoted digital illiteracy.
"In modern societies we spend 95% of our time using technology products. Education should provide youngsters with the necessary theoretical and practical tools – and skills – to comprehend this technological world and pursue a successful career in its ranks."
Since then, three hours of computer science have been introduced into the core curriculum, while another item on the government's agenda is the "Digital School" initiative, which
the education minister, Constantinos Arvanitopoulos,
has said is about "introducing ICT in education, leading to innovation in both teaching and learning".
Computer science teachers, technology-oriented students and their parents remain confused. Did they have to lose their coding classes?
Unemployment is soaring in Greece, as the government tries to satisfy demands from the European commission, IMF and European Central Bank – the "Troika" as they are known – for more austerity measures.
But the Greek government should be protecting education policies that foster economic growth opportunities – not chopping them.
Mina Theofilatou is a computer science teacher and electrical and computing engineer in Kefalonia, Greece